Youth Support Centre, Public Interest Incorporated Association
Youth Support Centre helps hikikomori participate in their community in various and tailor made way.

Division of outsourcing projects
Division of outsourcing projects
The Cabinet Office in the Government of Japan launched
"Act for Measures to Support the Development of Children and Youths" in April 2010.
Since then, local government offices gained momentum supporting the youth.
Tokyo metropolitan government also encourages cities to support the youth.
Under these circumstances,
several projects have been outsourced to us by Bunkyo-ku and Setagaya-ku since 2014.
Project [STEP] for supporting self-reliance
from hikikomori or others (Bunkyo-ku)
* STEP stands for Support, Talk, Experience and Place.
We have discussed with Bunkyo-ku about building a network supporting children and
the youth who have difficulties to live in their societies since 2014.
Because our centre is located in Bunkyo-ku, we closely work with the local government of
Bunkyo-ku and have offered high quality services.
In addition, we are planning to expand our projects by fully utilizing social resources in Bunkyo-ku.
Merkmark Setagaya,
youth total support center (Setagaya-ku)
Merkmark Setagaya was opened in September 2014 outsourced by Setagawa-ku.
The functions of the Merkmark are
1) Individual counseling,
2) helping find a comfortable place to stay (ibasho),
3) seminars for families
4) communicating with other facilities, and more.
We have offered these services for junior high school students up to
39 year olds at no cost in Setagawa-ku.
We also have conferences on individual cases and staff-trainings with
psychiatric doctors to improve our supporting services.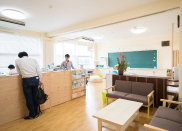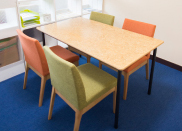 Project for promoting supports and training
for the youth (Taito-ku)
Since April 2016, we have worked on a project, outsourced by Taito-ku,
that helps hikikomori young people to join their society.
We provide 1) individual counseling and visiting counseling,
and 2) lectures and family meeting without fee for
the youth under 39 years old and their families in Taito-ku.