Youth Support Centre, Public Interest Incorporated Association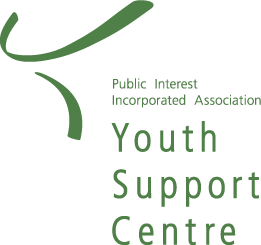 Youth Support Centre, Public Interest Incorporated Association (YSC) is a non-profit organization that provides psychiatric and psychological treatments for young people who have mental issues such as school refusal or hikikomori (prolonged social withdrawal). We offer extensive supports for those who have difficulties in interpersonal relationships or those feel isolated in school or workplace regardless of age. Not only for the individuals, but we also provide various supports for their families and the public.
Corporate Overview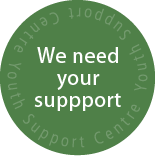 Youth Support Centre was established in 1985 and designated as Public Interest Incorporated
Association by the Cabinet Office of the Government of Japan in 2014. Currently,
the following five public benefit projects are operated by specialists such as certified
clinical psychologists and psychiatric doctors for supporting young people
with difficulties and their families.
Counseling and "Ibasho" project

We offer psychological counseling and "Ibasho"(a place where a person feels acceptance, safety and belonging) for young people suffering from hikikomori (social withdraw) and other difficult conditions to help them build their self-reliance.

Program for preparing public participation

We offer a program series for youth in difficult condition like hikikomori to help them to participate in their communities. We provide seminars, group works, volunteer activities and work experience training.

Puberty counseling programs

We have offered practical lectures to train counselors specialized for puberty and adolescence. The program has also aimed to educate parents how to cope with their own children around the age.

Lectures and Symposiums

Dr. Tamaki Saito, a counselor of YSC, a psychiatric doctor, and a professor at University of Tsukuba will provide lectures (theories and practices) . And we will hold symposiums which themes reflect current situations in our society.

Clinic KIZUNA

This project aims to prevent youth suicide. Counselors and psychiatric doctors will have phone and face-to-face counseling.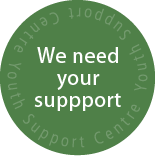 Greeting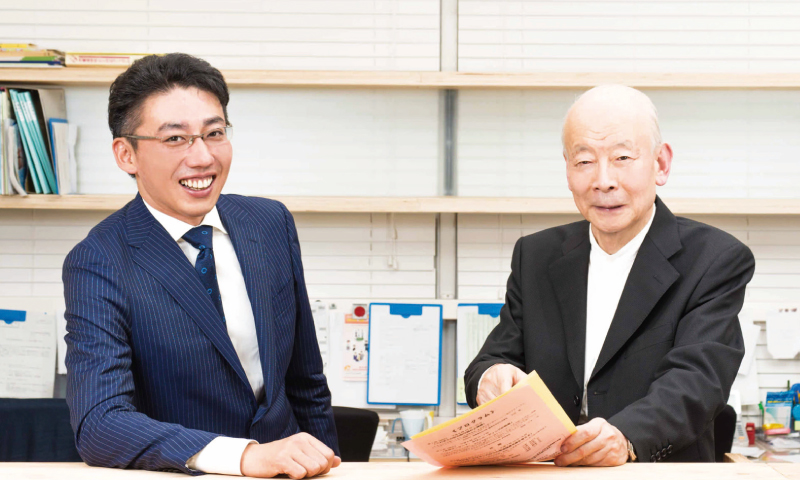 Greeting from
the President,
Yukio Saito
During 1970s and 1980s, issues caused by the adolescent became societal problem. Dr. Hiroshi Imamura, a former professor at University of Tsukuba, was concerned about the situation surrounding the youth, and took action to change it. Youth Support Centre (YSC) was established in 1985 by researchers and activists of youth support who were inspired by Dr. Inamura.
The core service of YSC was initiated at the workshops held at Myogadani Club. Later Mercmark Setagaya, a facility recently outsourced by Setagaya-ku, joined us to expand our activities. Not only workshops, but we also offer various supports to help the youth get participate in their societies: counseling and public participations; lectures on how to take care of hikikomori children or adolescent children for parents. As an outreach activity, we also hold lectures and symposiums to increase the awareness of the issues from the public. These lectures have been recorded and published.
Although the total number of suicidal deaths in Japan has been decreasing these days, the number of suicides by the youth has been still increasing. To improve this situation, we launched "Clinic Kizuna" in 2012 for supporting the youth who have difficulties. I would deeply appreciate if you come to YSC and use our services, and if you consider supporting our projects by volunteering or by donation.
Greeting from
the Secretary General,
Masayuki Tokimori
YSC was designated as Public Interest Incorporated Association (PIIS) by the Cabinet Office of the Government of Japan in 2014. This was truly thanks to your continuous supports bringing this designation. We are one of the 200 PIIS out of 4,000 in Japan that are eligible to receive tax-deductible donations. This designation has allowed us to receive more donations widely.
Upon the designation, we renewed our organization to clarify responsibilities and liabilities, and improve business efficiency by separating our services from management. In this new organization, we have structured strong bases of compliance and accountability required as PIIS. We have 4 supporting divisions (counseling, Clinic Kizuna, enlightening, outsourcing) and a corporate division for management.
All of our staffs will be devoted to meet your expectations as a pioneer to support the youth in Japan. Thank you again for your concerns and supports.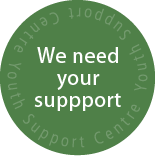 Organization chart /
Board Members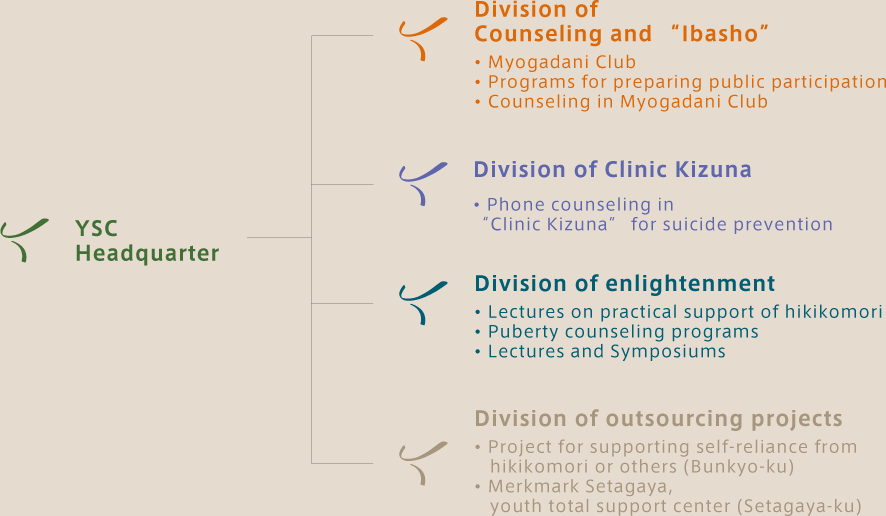 List of board members
♦ President
Yukio Saito
Board Chairperson of Japanese Association for Suicide Prevention
♦ Vice President
Toshio Sekikawa
Director of Sekikawa Emotional Education Research Institute
♦ Auditor-Secretary
Akira Kikuchi
Urawa Nerve Sanatorium, Medical Corporation Hakushukai
Akira Sato
Former Chiyoda Corporation
♦ Board Members
Taku Kondo
Professor of Sanyo Gakuen University
Munetsugu Todo
Yamazaki Clinic, Medical Corporation Yushinkai
Hidehiko Kuramoto
Board Chairperson of Medical Corporation Kitanomaru
Toshio Iwasa
Director of Home Casework Research Institute
Yuri Iri
Chief of Myogatani Club
Masayuki Tokimori
Secretary General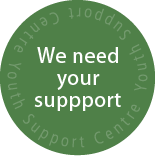 Our History
History of Youth Support Centre
1985
Organized a committee of Youth Support Centre (Rep. Mr. Ryuichi Hirano)
1986
Held a general meeting of supporting project establishment
1987
Started counselor training programs (currently puberty counseling program)
Opened [Aobadai House]
1988
Opened [Myogadani Club]
1989
Relocated the office to Sankencho bldg. in Myogadani
1990
Held the first symposium [the youth supports for the 21th century]
Approved as an Incorporation Associate Youth Support Centre
1991
Started [sending consultative home tutors]
1993
Started [Temp staff team for cleaning building]
1995
Held the 10th anniversary ceremony and a symposium – Problems of the youth in 21th century – visions and challenges
1996
Mr. Yukio Saito assumed the position of acting vice president
1998
Started [Lectures on practical support of hikikomori]
2002
Started programs for [Preparing public participation group]
2004
Held ad hoc board meeting and assigned Mr. Yukio Saito as president and Ms. Etsuko Sato as vice president
2008
Held lectures/symposium [Aggressions in adolescence – Komoru and Kireru ]
2010
Mr. Toshio Sekikawa, Executive director assumed the position of vice president
2011
Myogadani Club was designated a registered group of [No.2 Ibasho activities in outside home (free space)] and [No.3 Projects for preparing public participation] in [Encouragement projects for public participation of the youth] by Office for Youth Affairs and Public Safety, Tokyo Metropolitan Government.
2014
Designated as Public Interest Incorporated Association by the Cabinet Office, government of Japan
Outsourced [Project for supporting self-reliance from hikikomori or others] by Bunkyo-ku and [Managing the youth total support center] by Setagaya-ku
2015
Celebrated the 30th anniversary and held a ceremony
2016
Outsourced [Project for promoting supports and training for the youth] by Taito-ku.